VIOLETTE
THE AUTONOMOUS PIONEER WEEDER ROBOT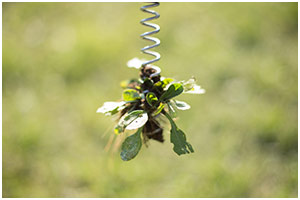 The prohibition of all peсticides raises the issue for maintaining sports lawns.
NATUITION equipement offers a zero-phyo for professional landscapers:
To weed dicots with a pivot root system
To weed dicots with creeping roots ( in the research phase)
To weed grassy weeds as annual bluegrass and rough bluegrass (in the research phase)
The equipement is presented in the form of an autonomous smart weeder (cordless)
| Characteristic | TAEX20 | VIOLETTE |
| --- | --- | --- |
| Dmensions, mm | 1200x750 | 1200x750 |
| Weight, kg | 25 | 40 |
| Working zone | 480x480 | 480x300 |
| Autonomy, h | 10 | 10 |
| Self-guidance | no | yes |
| Technical description | in progress | Brochure |
The issue of weed control has become a societal concern. NATUITION company based in LA ROCHELLE innovates with a selective weeding equipment for sports fields. This equipment smartly locates the weed, accurately picks it up in mechanical way and replaces it with seedling blades of grass.
Goodbye to post-war chemistry, welcome to sustainable weed control. Change benefits not only the well-being of future generations, but also the professionals of green spaces. Back, wrists, shoulders, knees are safe, there is no need to bend down. Innovation: Weed control is clean without any harmful products; it is sustainable because the root is removed and collected. Also, the grass is improved because the loosened soil hosts a noble seed. The staff is wholeheartedly satisfied to restore the sporty and aesthetic quality of the sports fields. The danger is to keep using herbicides because of the lack of a weeding solution. Landscape professionals, you are the pioneers of transition.
The foliar exchange surface of a maintained turf/lawn is an environmental gain; a stadium forms an oxygen lung in an urban heat island. To master and sustain nature is the asset of tomorrow.
DROP US YOUR CONTACT DETAILS